Your Trusted Source for Beautiful, Functional Dentures in Sidney, BC
At Peninsula Denture Clinic, we offer comprehensive and highly specialized denture care to patients in Sidney, BC. Our team of experienced and registered denturists use state-of-the-art techniques in order to provide not just regular dentures, but precision dentures, which look and function to the best result possible.

We offer a wide range of services, including same day denture repairs, relines, and rebases. We also provide extensive counseling on the proper use and care of dentures to ensure our patients receive the best possible results. Furthermore, we strive to create a comfortable and welcoming environment for all our clients. At Peninsula Denture Clinic, we are dedicated to providing exceptional denture care with a focus on customer satisfaction.
We offer a free consultation to discuss your current situation, your expectations, and a proposed plan to exceed those expectations. You will have detailed discussions with your denturist along the way, should you decide to proceed.
Derrick is a highly skilled denturist with a commitment to excellence. He honed his craft through diverse experiences, including precision dentures and IT proficiency. His dedication to providing exceptional patient care has been his hallmark. Now, as he embarks on his own clinic, Derrick is poised to bring his expertise to a wider audience. With meticulous attention to detail and a strong commitment to both technical and interpersonal skills, he's well-prepared to offer a level of denture care that is truly outstanding. Derrick's journey reflects a deep passion for the craft and an unwavering dedication to his patients' well-being.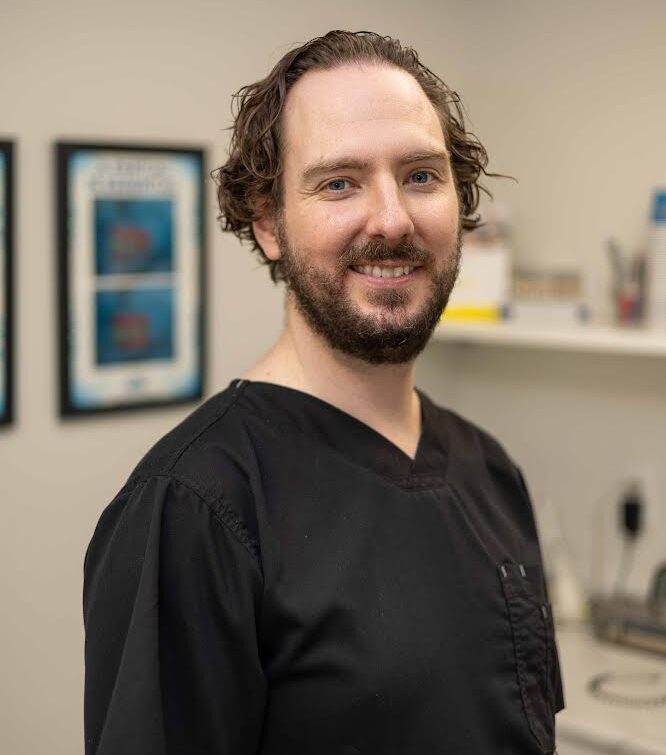 Our denture specialists will gain your trust by preparing a set of complete or partial dentures in as little time as possible. We also provide denture over implants.
Whether your missing or broken teeth are visible in front or hidden in the back, we'll restore your ability to eat, as well as a brilliant smile!
Thanks to our state-of-the-art in-house laboratory, we have the capability to offer an extensive array of denture services without the need for intermediaries. This efficient approach ensures that we can provide you with new dentures as swiftly as possible, meeting your needs with a streamlined and effective process that prioritizes your convenience and satisfaction.
When urgency is paramount, our in-house lab is poised to deliver same-day service. Equipped for swift action, we prioritize your dental needs with efficiency and precision. This means you can count on us to provide the necessary dental solutions without delay, ensuring your dental health and satisfaction are our top concerns.
We  believe in open and honest communication with every patient. After listening to the needs and expectations, we discuss realistic outcomes, and educate on best options.
Your journey with us begins with a personalized experience designed specifically for your unique needs. We address every concerns and ensure a smooth, and precise procedures.
Derrick is committed to providing precision dentures. He goes the extra mile, taking numerous additional steps to ensure your dentures fit perfectly and look great.
"Derrick Parisiene has now bought this clinic. My mother-in-law broke her dentures and he was able to fix them very fast! He is really helpful, explains everything and so friendly. I hope you do well in the Sidney / Victoria area Derrick! Thank you!"
Schedule Your Consultation Today!
Take the first step towards your confident smile. Schedule a consultation with Peninsula Denture Clinic and discover personalized denture solutions tailored just for you!